Thunderbird Society
How to Join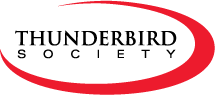 If you are already a member, please fill out our Member Profile Form.
The following types of commitments, confirmed in writing and subject to certain restrictions, qualify you for membership in the Thunderbird Society:
If you have already included AFA in a bequest or other planned gift, we hope you will let us know. Your willingness to be listed as a member of the Thunderbird Society encourages others to follow your example. We acknowledge and respect those who wish to remain anonymous, but we urge you to let us know of your plans on a confidential basis in any case. It supports AFA's planning for the future. Of course, if you have not yet included AFA in your plans and you would like to explore the best options for you and your family, do not hesitate to contact us. We would be glad to assist you on a confidential basis and without any obligation.
Benefits of Membership
In an effort to preserve your legacy for the purpose it is intended, we have chosen a few simple ways to recognize your commitment. Each new member will receive a certificate of appreciation and letter of thanks from the President and CEO of AFA, along with a handsome recognition gift that we hope you will treasure for years to come.
In addition to these small expressions of gratitude, we hope you will allow us to recognize you as a member of the the Thunderbird Society in our annual donor recognition publication. Your inclusion in this publication encourages others to join in this important effort. Lastly, as a member of the Thunderbird Society, you will receive timely information, tips, and ongoing professional gift planning services from the Office of Planned Giving.
Thunderbirds (Charter Members in bold) *-deceased
John T. (Tim) Brock
Jim* and Bonnie Callahan
David* and Marguerite Cummock
Gordon and Ann Jackson
Bob and Becky Largent
Glenn Schaffer
Loren and Randy Spencer*
Ray and Carole Turczynski
Anonymous (4)
Craig and Connie Allen
Boyd Anderson
John Appel*
William Baessler
James Barber*
Betty and Joseph Benham*
Tom J. Bilodeau*
Michael and Patricia Bolton
Elaine Booker*
Tutt Bradford*
Clarence Brown*
Aaron Burgstein*
Virginia Butler*
Jack Buzbee*
Judy Church
James Corbett
Ollie Crawford
Bradford Cummings
Donald Davis
David & Connie Dietsch
Bill & Phyllis Donberg
Mike and Pam Dunn
Angela Dupont
David Eichner
Justin and Deann Faiferlick
Josephine Ferretti*
Dennis Foley
Herbert Foster*
Edward and Marilyn Garland
Richard Gedeon*
Kenneth Goss
William Grider
Jack Gross*
Martin Harris
Rick and Amy Hartle
Maxine Haun*
Charles Heaps
Harold and Rose Henneke
Robert D Hudson, Jr.
Lawrence and Virginia Hutchison*
R.J. Iacino*
Christopher Ince
Kenneth T. Johnson, Jr.*
Tyler Johnson
Joseph Kabot*
Everett Kazup*
James Keaton*
Thomas Kemp
Robert* & Virginia Kershaw
Ross B. Lampert
Jess Larson*
Elizabeth Lindsay*
Constance Luehman*
Steve and Susan Lundgren
Joseph McGarry*
Bill and Kathy McGuth
Billy McLeod*
Roy and Bette Meeker
Phyllis Melvin*
Allan Meredith*
Ransom Meriam
Jack Miller
Jean R. Miller *
William Miner
Clement Moore*
Bryan Murphy*
Gregory Muthersbaugh*
Herman Nickel*
Adam Ohl*
Clyde Owen*
James Parry
Lee W. Parke
Alan Preisser
Betty Lee Raymer*
John Redigan
Donald Rice
Charles Richter*
Daniel Riley*
Jerry Riley
Jack Rothaus*
Nora Ruebrook
Fred Sayre*
Sandy and Patricia Schlitt
Barbara Shepard
Joseph Shriber
Ralph W Snyder*
Earl Spohr*
William Spruance*
Douglas Stewart*
Joe and Geri Sutter
John and Hazel Sutton*
Stephen Tator
Charlie Thomas*
Michael E. Wells*
Jerry and Mary White
John Wood*
Richard Woodson
William Yucuis